Oversea Shipping
Thank you for shopping with us. We are here to help any questions about shopping on Wooderful life Online Shop from oversea. Please read carefully this FAQS, but always feel free to drop us message at《MyAccount》or Email us《http://service.jeanco.com.tw/》, we will get back to you ASAP.
About Oversea Shipping
1.Do you ship internationally?
YES! WE SURE DO. Most of the products on Wooderful life Online Shop are available for directly online ordering. We pretty much ship the parcels all over the world from Taiwan.
2.How do you charge international freight fees?
Please refer to the following table for your international freight fees estimations. However, if you need the precise amount, please drop a message or email us the following information, and we will quote the freight fees customize for your order.
1.      the items * qualities you like to order.
2.     the full residential address.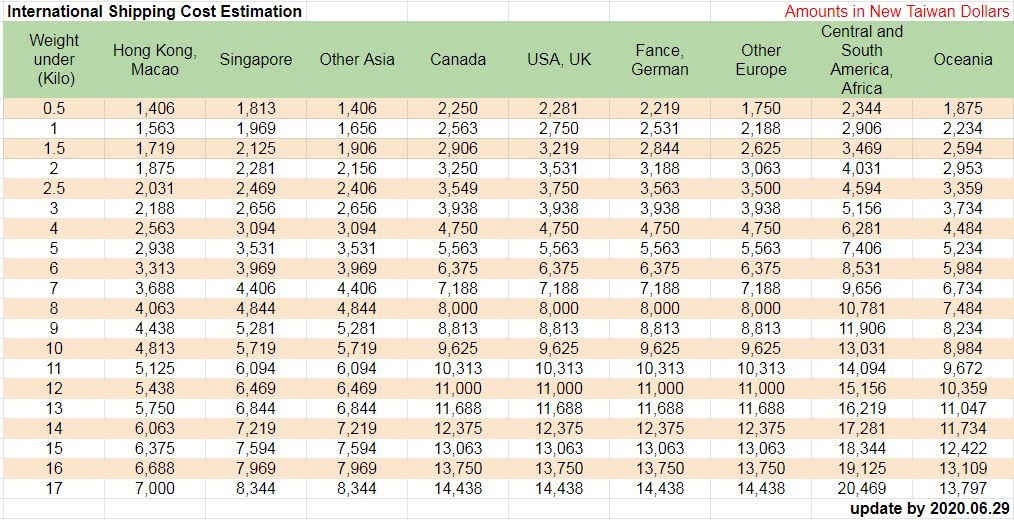 3.Can I change or cancel my order?
Before the shipment, YES, you are free to change your mind anytime. Just drop a back-end message or email us with your order number, and we will get in touch with you ASAP.
4.How can I pay for my order?
We accept Visa, MasterCard, JCB and PayPal Express. All over the world.
5.What currency will I be charged in?
All the prices on Wooderful life Online Shop are listed in "New Taiwan Dollar", this is how all customers will be charged as well. No worries if your payment card is registered a foreign currency, your bank will convert the price via local most updated exchange rate automatically. Therefore, we strongly recommend checking domestic bank for currency rate for your own benefits.
6.About Customs, Duties & Taxes
Once placing the order with us, you're responsible for assuring the product can be lawfully imported to the destination. The recipient is the importer of record and must comply with all laws and regulations of the destination. The recipient of an international shipment may be subject to such import taxes, customs duties and fees, which are levied once a shipment reaches the recipient's country. Additional charges for customs clearance must be fulfilled by the recipient; Wooderful life has no control over these charges, nor can Wooderful life predict what they may be.
Customs policies vary widely; you should contact your local customs office for more information. When customs clearance procedures are required, it can cause delays beyond our original delivery estimates.
7.When my order will be arrived?
International shipping time frames can be difficult to estimate accurately (compared to domestic shipping),because of the many factors involved. Generally, EMS Postal Services can take anywhere from 10 days to 3 weeks to arrive at the destination country, and customs can take 3-10 days after that. All in all, it's usually best to place an international order as early in advance of the time you need it!
8.How do I track my order?
Once the parcel starts shipping,you will receive an email with tracking information and freight websites.
Also, all your order within one year were be recorded at Wooderful life Online Shop member account.
Just sign in and click《My Account》>《View》for all the ordering details.
9.Return and refund?
Due to time and space constrains, we don't provide warranty and return services for oversea shoppers. However if you received the products in damaged, please contact us with photo proves. Store credits will be refund after inspections.
10.Product contains lithium batteries
According to "Lithium Battery Guidance Document"of IAT
1.      the maximum weight is 5kg of lithium batteries per package
2.     Up to 2 lithium batteries per package
Therefore, if your order contains more than 2 lithium batteries, we might pack them in separate parcels for safety issues. And please be award, controlled articles as lithium batteries might more easily cause customs, duties and taxes. All the charges for customs clearance must be fulfilled by the recipient.
11.Invoice
If you don't want invoice comes with order, please notify us either message or email when you placing the order. And we will send you electronic invoice after shipments.